It is a Sunday morning in late March, and I have just observed Crocodile's first online class. (We have done a certain amount of one-on-one classes on Skype over the past year, but this is our first to multiple students.) Our teacher this morning was Jessica Chen. Until witnessing this class, my principal concern was to help our teachers create an online experience that was "as close as possible to a real class." As anyone reading this certainly knows by now, Corona virus has made face-to-face instruction impossible this spring. However, after watching Jessica in this initial class, I realized that what I witnessed was not an "approximation" of a real class. What I witnessed was an experience that was—in significant ways—actually superior to the one in the classroom. The morning was a series of delightful surprises.
My first surprise was when the kids began arriving. They were excited. Yes, you read that right. Excited. One of them said, (I'm so happy.) Also, I was delighted to note that everyone invited has now arrived. The parents stay for the entire hour just out of sight of the camera, but stepping in when needed, which was rarely.
My attention was drawn to the wall behind the teacher, which was festooned with bright coloured paper cutouts, which were not only beautiful but sure to create a pleasant expectation in the kid's minds. They must wonder as I did, what role these colourful objects would play in the coming class.
The students light up with delight upon hearing the Crocodile songs they are familiar with. Frankly, networked sound is sometimes not the best, wavering at critical moments, but, in general, it is okay.
I liked Jessica's skillful use of the off-screen space to create suspense in the audience. She asks where the Crocodile is and the students have fun guessing because they cannot see everything. In the classroom everyone knows where the crocodile is concealed because there are few places to hide. Several children have their own crocodiles which they present to the screen. Jessica plays a game in which she shows them several animals for a short time and then pulls them away asking the kids for the name in Mandarin.
Puppets work really well online because the teacher can conceal her arms and make them seem more life-like.
Today's lesson is about pets. We watch the pet song and then Jessica starts asking what pets the kids have. It is then, that I realize my own pet is just feet away from me. I walk over and take him in my arms, presenting him to the camera. This is Timber, my dog, I say in Mandarin. How many times while being in the classroom have I wished I could present my living dog? How many times have I settled for a photo. Now, I am realizing my desire in a safe, trouble-free format. The dog is a hit with the class, and it sets off a chain reaction. Every child now wants to show his or her pet to the class. Those who don't have living pets bring their "stuffties" and show the class. At the end of these presentations, everyone is clear on how to say, "I'm raising a dog/cat/fish" in Mandarin.
Jessica does a power point presentation about comparing animals. It goes well, but I make a mental note that more sound effects and animation than is usual would increase the engagement of the lesson. That's my responsibility.
By the time we do, "Da Da Da" (our good-bye chant) the kids are still with us and still engaged. And this is, impressively, one of those rare sessions without a craft project. The craft is the most popular activity in the play-based classes and is—for that reason—always done last.
The secret to a successful class will be to continually give the kids something to look forward to. It should be like an advent calendar, with a new door opened each session, but with several closed, only to be opened at a future meeting.
Who knew Mandarin learning could be so fun?
Crocodile Mandarin School
What happened
during our first
online class?
Some very pleasant surprises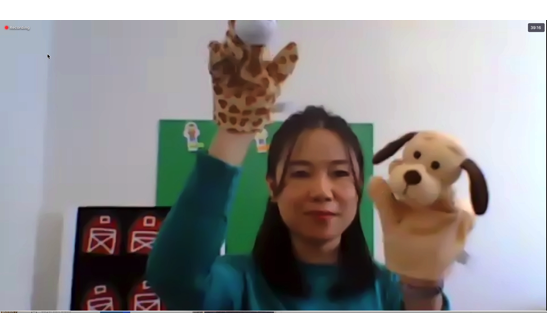 Teacher Jessica Chen leads a lively and fun online class for Crocodile.